Ukraine Launches Daring Missile Assault on Crimea, Causing Chaos and Injuries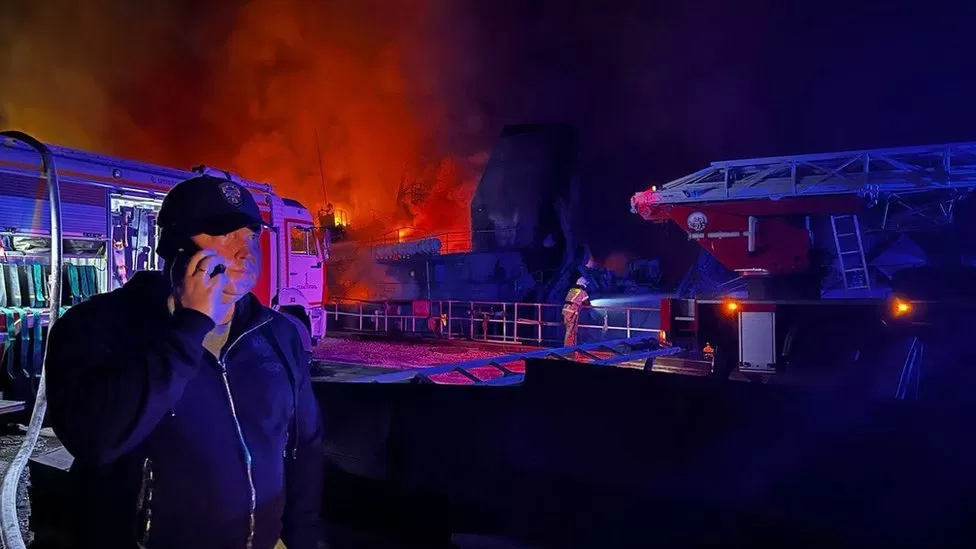 Sevastopol, Crimea – September 13, 2023: In a significant escalation of the ongoing Russia-Ukraine conflict, Ukraine has reportedly launched a missile attack on Crimea, specifically targeting the home of Russia's Black Sea fleet. The attack has resulted in a massive fire at a shipyard in Sevastopol, leaving at least 24 people injured, according to official statements from Russia.
Moscow-installed governor Mikhail Razvozhayev asserted that most of the incoming missiles were intercepted by Russian defenses. Nevertheless, Russia claims that two of its ships sustained damage due to strikes by cruise missiles.
Also Read: How Elon Musk's Decision to Disable Starlink Services Undermined Ukraine's Defense and Exacerbated the Conflict
A photograph shared by Mr. Razvozhayev on the messaging app Telegram depicts flames engulfing what appears to be a vessel in a port, with the governor in the foreground, speaking into his phone. The incident occurred in an area where ships were undergoing repairs, and Ukrainian military intelligence sources suggest that a large Russian amphibious landing ship and a submarine, both believed to be in dry dock, were among the damaged vessels. If confirmed, this would mark one of Ukraine's most significant attacks on Russia's Black Sea fleet to date.
Mykola Oleshchuk, the commander of Ukraine's air force, issued a warning, indicating that this attack may be just the beginning of a larger offensive.
Images circulating on social media, though yet to be verified by the BBC, depict several substantial explosions in the affected area. The fact that some missiles penetrated Russia's air defenses and caused substantial damage raises serious concerns in Moscow.
Russia's defense ministry asserts that seven of the incoming missiles were successfully intercepted, and all three unmanned boats involved in the attack were destroyed.
The conflict in Crimea stems from Russia's annexation of the region from Ukraine in 2014, and this latest attack underscores the ongoing struggle for control of the Black Sea waters. Ukraine has consistently maintained its goal of regaining control of the peninsula.
The exact nature of the weapons used in this attack remains a subject of speculation. While Western-supplied long-range missiles have been suggested, Ukrainian-made Neptune missiles are also a possibility. Notably, Neptune missiles were previously used to sink the Moskva, the flagship of Russia's Black Sea fleet.
Also Read: Denmark Announces $833 Million Military Aid Package for Ukraine
Meanwhile, reports indicate that Russian drones have inflicted damage on the Ukrainian grain port of Izmail, situated on the Danube River. Oleh Kiper, the governor of the Odesa region, reported six injuries in the attack, which also resulted in a fire and damage to infrastructure.
Recent days have seen Ukraine claim to have retaken control of four gas drilling platforms in the northern Black Sea, near the Crimean peninsula. These platforms, known as the Boyko Towers, were seized by Russia in 2015 shortly after the annexation of Crimea.