Russian Panic Escalates After Ukrainian Strike on Sevastopol.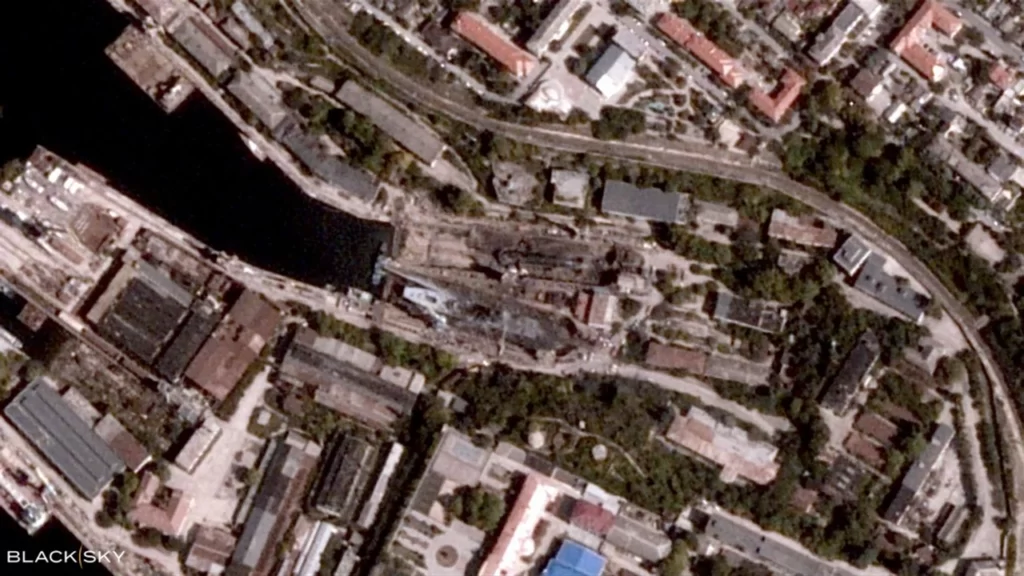 Moscow, September 14, 2023 – In a significant turn of events, a devastating Ukrainian missile strike on Moscow's Black Sea Fleet, particularly targeting the S. Ordzhonikidze ship repair plant in Sevastopol, has left many Russians in a state of panic. The attack, which Kyiv has described as a "very good result," caused severe damage to a submarine and landing ship in the early hours of Wednesday morning.
As the Kremlin grapples with the aftermath of this strike and the recent liberation of gas and oil production platforms at the Boyko Towers, Russian citizens have taken to social media to express their concerns and frustrations.
Commenting on Russian news articles, one individual criticized the seemingly business-as-usual atmosphere in Russia, stating, "For how long are we going to ignore these significant events?" This sentiment was met with a poignant response: "Until the end. Only no one knows whose [Russia's or Ukraine's] end will be bigger."
Some even went as far as suggesting that Russia's full-scale invasion of Ukraine should be called off in light of the attack on Sevastopol, which left 24 people injured. One commenter wrote, "I don't know what to think… Maybe it's time to stop this special operation?" However, this suggestion was swiftly met with a counterargument: "Do you think the terrorist attacks will stop?! Nooo. That's where the zombified fascists are; they should be wiped clean!"
Looking ahead, there is growing concern that if Ukraine acquires more advanced weaponry from its western allies, such as F-16 or F-17 fighter jets, the situation could escalate further. One person questioned, "And if they get these F-16 or 17, then what will happen? There will be a great shame."
Cynicism was prevalent in many online discussions. When asked whether the "Special military operation" was against the people or the regime, one individual responded, "No difference. People want more spectacles, as bread every day is more expensive, and the spectacle is still free."
While the attack on Sevastopol demonstrated Ukraine's capabilities, the ongoing use of kamikaze drones targeting Moscow has already instilled fear among Russians. Following an earlier drone attack, one person commented on Russian news reports, stating, "Something is wrong in our Kingdom."
Frustration has also been directed at President Putin for what some perceive as an inadequate response to these attacks. One person questioned, "So, when will Moscow respond to these attacks? Will everyone stand on the brakes? We are waiting for active actions after these terrorist attacks."
Another commenter went further, asking, "When will Russia destroy the entire [Ukrainian] government and its visitors, including Blinken and so on?" Meanwhile, as Russians await the Kremlin's response, Kyiv has vowed to carry out more attacks, keeping the situation tense and uncertain.
Also Read: Political Sparks Fly as Braverman Accuses Starmer of Making UK an EU Migrant "Dumping Ground"
In the early hours of Thursday morning, a Ukrainian drone and missile attack destroyed a sophisticated Russian air defense complex in Crimea, with Kyiv warning those living on the occupied peninsula to expect more "surprises."