In the fast-paced world of fashion and entrepreneurship, age is often just a number. Masoom Minawala Mehta, born on December 17, 1993, in Mumbai, India, has achieved impressive career milestones while defying age-related expectations. Let's delve into her extraordinary journey through the lens of her age and career accomplishments.
Table of Contents
1. Masoom Minawala's Age-Defying Success on Instagram
Masoom Minawala's Instagram journey began with a youthful passion for creative photography and high-fashion style. Her account, @masoomminawala, has gathered an impressive following of 1.3 million fashion enthusiasts. At just 29 years old, her vibrant aesthetics have propelled her to a sensational status in fashion and lifestyle. Her influence extends to renowned brands such as Jimmy Choo, Dior, Gucci, and Estee Lauder, underlining her pivotal role in shaping fashion trends.
Story continues below advertisement
2. India's Best Luxury Fashion Blogger Award
In 2019, Masoom achieved a remarkable career milestone by winning India's Best Luxury Fashion Blogger award. At the age of 26, her dedication to fashion blogging and innovative content made her a standout figure in the industry. This achievement highlighted her as a true trendsetter, demonstrating that age is no barrier to success.
3. Forbes 30 Under 30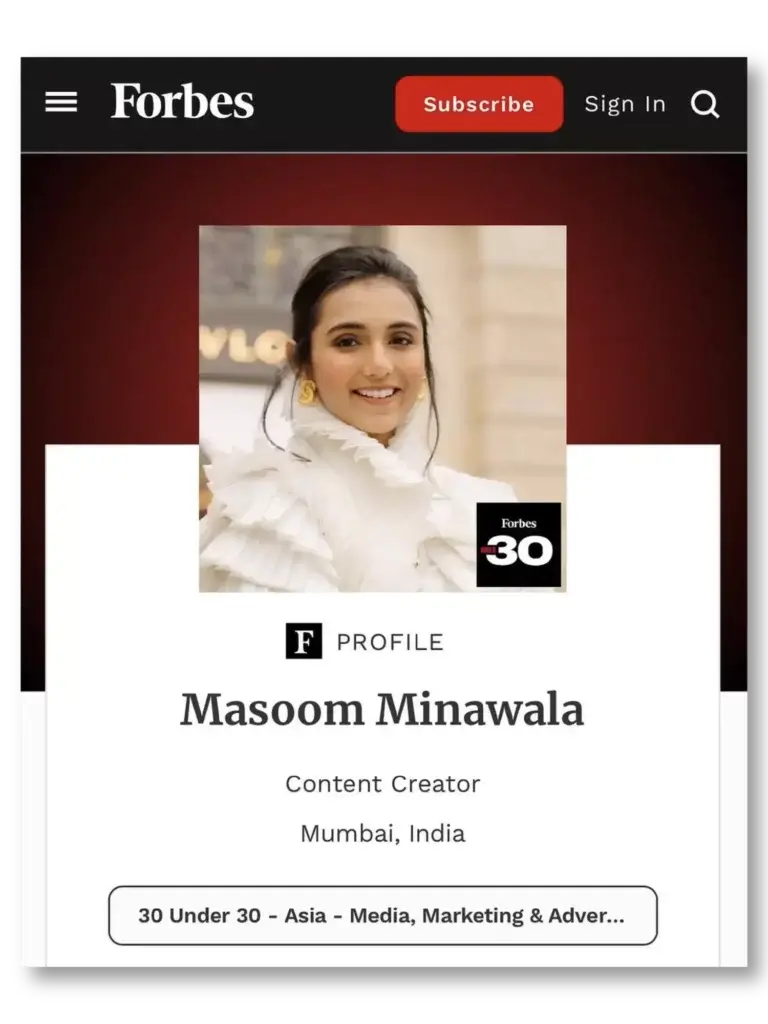 2019 marked another significant milestone in Masoom's career when she secured a coveted spot on Asia's prestigious Forbes 30 Under 30 list. This recognition serves as a testament to her entrepreneurial spirit and creative vision. Forbes 30 Under 30 spotlights young visionaries making a substantial impact in their respective fields. Masoom's inclusion underscored her extraordinary accomplishments at a relatively young age.
Story continues below advertisement
4. Empowher Initiative: A Young Advocate for Women-Led Businesses
Masoom's influence transcends the boundaries of fashion and lifestyle. At the age of 29, she founded the Empowher Initiative, a platform dedicated to uplifting women-led businesses and professionals. This initiative creates a safe space for working women and entrepreneurs to openly discuss the challenges they face in the workplace. Masoom's commitment to supporting and empowering women showcases her as a young philanthropic force for change.
5. Supporting Indian Designers: A Youthful Not-For-Profit Endeavor
In addition to her professional achievements, Masoom launched the 'Support Indian Designers' project, a not-for-profit initiative to bolster Indian businesses and artisans. This initiative has ignited discussions about supporting local businesses and sustainable alternatives. At the age of 29, Masoom's initiative has garnered over 600K posts under the #SupportIndianDesigners hashtag.
Story continues below advertisement
6. Cannes Film Festival Red Carpet: A Global Fashion Ambassador at a Young Age
Masoom's career achievements extend to the international stage, as she graced the Cannes Film Festival red carpet three years in a row. This remarkable accomplishment showcased her as a global representative of Indian fashion, highlighting her as a style icon and an advocate for putting Indian fashion on the world map.
7. Global Recognition
Masoom Minawala Mehta's influence has reached far beyond the digital realm. Renowned fashion designers and brands, such as Anamika Khanna, Manish Malhotra, and Sunil Sethi, have praised her for her contributions to the global fashion landscape. Her collaborations have had a tangible impact on various businesses, often called the "Masoom Magic." Testimonials from brands like Louis Vuitton, Exhale Label, PitaNila, and Global Desi underscore her ability to drive traffic, boost online visibility, and inspire customers worldwide.
Also Read: Phoenix Mall of Asia in Hebbal: All You Need to Know About Bengaluru's Retail Marvel
In summary, Masoom Minawala Mehta's career trajectory showcases a remarkable journey from being a rising star on Instagram to a global advocate for fashion and women's empowerment, all while defying age-related expectations. Her age-defying success, passion, and commitment to creating positive change make her an inspiring figure for the modern generation.
Story continues below advertisement
As Masoom herself believes, "Having a vision isn't enough. You must be willing to take action and lead to make the vision a reality." Her impressive career milestones, achieved at a young age, attest to her unwavering commitment to this vision.
YOU MAY LIKE