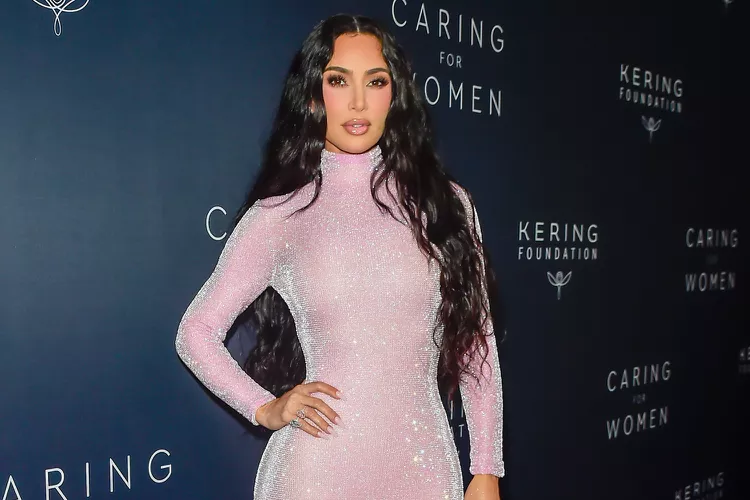 New York City, September 13, 2023 – Kim Kardashian, the renowned reality star, made a radiant entrance during New York Fashion Week (NYFW) with her dazzling pink attire. The 42-year-old celebrity graced the Kering Foundation's second annual Caring for Women Dinner, a prestigious event held at The Pool, a high-end event space.
Kardashian donned a blush-pink gown adorned with glistening crystals, making her look like a modern princess. The form-fitting gown not only complemented her figure but also covered her from neck to wrist to ankle, exuding an elegant charm.
However, the gown's crowning glory was its breathtaking train, reminiscent of a show-stopping bridal moment. As Kardashian entered the venue, the train swept gracefully behind her, leaving attendees in awe.
Kardashian's black hair, styled in loose waves down her back, added to her enchanting appearance. She accessorized with exquisite jewelry from Lorraine Schwartz, including a 10-carat, pear-shaped diamond ring, an 8-carat pink diamond ring, and a pair of 3-carat pink stud earrings.
Also Read: Concerns Rise as Kourtney Kardashian and Travis Barker's Hospital Exit Goes Public
The Kering Foundation's Caring for Women Dinner, as stated in a press release, is dedicated to raising funds for non-governmental organizations focused on combating gender-based violence and supporting survivors. The event's proceeds will contribute to the Malala Fund, the National Network to End Domestic Violence, and the New York City Alliance Against Sexual Assault.
Notable figures co-chaired the event, including Salma Hayek Pinault and her husband, French businessman François-Henri Pinault, as well as Oprah Winfrey and Nobel laureate Malala Yousafzai. Other expected attendees included Zoë Kravitz and Christy Turlington, with journalist Lisa Ling hosting the evening.
Kim Kardashian's presence at the charity dinner comes ahead of her return to acting in season 12 of "American Horror Story," marking her first acting role in over a decade. Kardashian had previously appeared in minor roles in various productions, including "Disaster Movie," "Tyler Perry's Temptation: Confessions of a Marriage Counselor," "CSI: NY," "Drop Dead Diva," "How I Met Your Mother," "30 Rock," and "Two Broke Girls."
Her casting in the FX series earlier this year created a significant buzz, with Kardashian revealing her dedication to the role by taking acting lessons in preparation. She expressed her enthusiasm for challenging herself and embracing new opportunities.
"American Horror Story: Delicate," featuring Kim Kardashian, is set to premiere on September 20 on FX, with streaming available on Hulu the following day.