In a high-stakes UN meeting, President Biden and Volodymyr Zelensky rally against Russia's aggression, while tensions and divisions escalate on the world stage.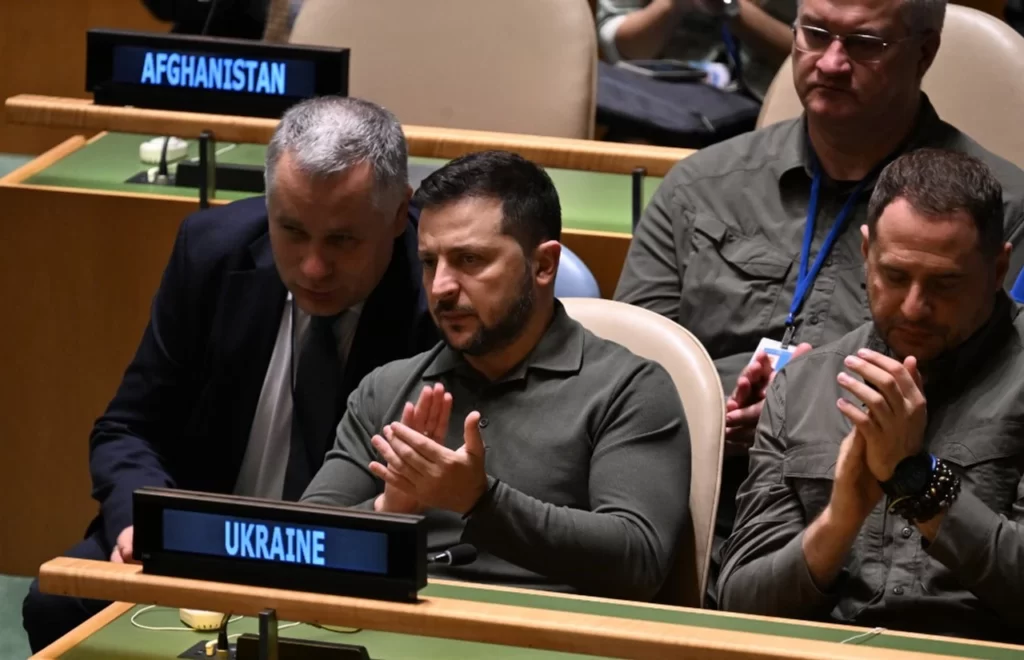 New York, September 19, 2023 – Ukrainian President Volodymyr Zelensky made a powerful entrance onto the global stage as he addressed the United Nations General Assembly on Tuesday. This marked his first appearance at the annual UN gathering since the onset of the Ukraine-Russia conflict.
President Joe Biden, who addressed the UN earlier in the day, issued a stark warning to the world about the consequences of "appeasing" Russia's "naked aggression." In his speech excerpts, Biden stressed that Russian President Vladimir Putin seems to anticipate that the world will eventually grow tired and allow Russia to continue its brutal actions in Ukraine without facing repercussions. He posed a crucial question: "If we abandon the core principles of the UN Charter to appease an aggressor, can any member state feel confident that they are protected? If we allow Ukraine to be carved up, is the independence of any nation secure?" Biden emphasized, "We must stand up to this naked aggression today to deter other would-be aggressors tomorrow."
Zelensky's presence at the UN General Assembly was a significant moment, as he engaged with leaders holding diverse views on the Ukraine crisis. Among them was Brazil's President Luiz Inacio Lula da Silva, who had previously expressed that Ukraine shared some responsibility for the conflict and criticized the substantial Western military aid provided to Kyiv.
Zelensky, who had been traveling with utmost secrecy until recently, also participated in a special session on Ukraine at the UN Security Council. This session held added significance due to Russia's permanent membership and its ability to veto any binding actions.
Commenting on the meeting during a visit to a New York hospital treating wounded Ukrainian soldiers, Zelensky remarked that the United Nations still provided "a place for Russian terrorists."
Furthermore, Zelensky's UN appearance shed light on the ongoing Ukraine conflict, with the Ukrainian President describing Vladimir Putin as a "second Hitler." He emphasized that the world faces a pivotal choice: "decide whether we want to stop Putin, or whether we want to start the beginning of a world war."
While Russia faced overwhelming criticism at the General Assembly for its February 2022 invasion of Ukraine, some developing countries voiced discontent, feeling that the focus on the conflict had diverted attention from other pressing global issues.
UN Secretary-General Antonio Guterres dedicated the start of the UN week to development, highlighting recent disasters like the floods in Derna, Libya, where thousands lost their lives.
In a similarly sobering tone, Biden used his speech to draw attention to recent natural disasters, including wildfires in North America and Europe and drought in the Horn of Africa. He underscored the urgent need to reduce dependence on fossil fuels and climate-proof the world.
Zelensky's UN visit also included meetings with Turkish President Recep Tayyip Erdogan, Israeli Prime Minister Benjamin Netanyahu, and German Chancellor Olaf Scholz. These discussions took place against a backdrop of renewed global tensions, with Scholz expressing concerns about "new rifts" in the world.
Erdogan, set to address the General Assembly, aimed to restore a UN-backed arrangement allowing Ukraine to ship grain through the Black Sea, a crucial development for the global food supply.
While Zelensky engaged with world leaders, the possibility of a meeting between President Biden and Iranian President Ebrahim Raisi remained unlikely. Raisi arrived at the UN following a prisoner swap and the release of Iranian oil revenue, but the Biden administration made clear that this did not signify an opening in relations.
Also Read: Ukraine's Successful Strike on Russian Submarine Sends Shockwaves Across Black Sea Fleet
In a world marked by geopolitical shifts and mounting challenges, the UN General Assembly witnessed crucial debates and discussions on Ukraine's crisis and broader global concerns.