A fiery collision between a bus and a truck in South Africa's Limpopo province leaves 20 dead, with grim echoes of a similar incident earlier this year.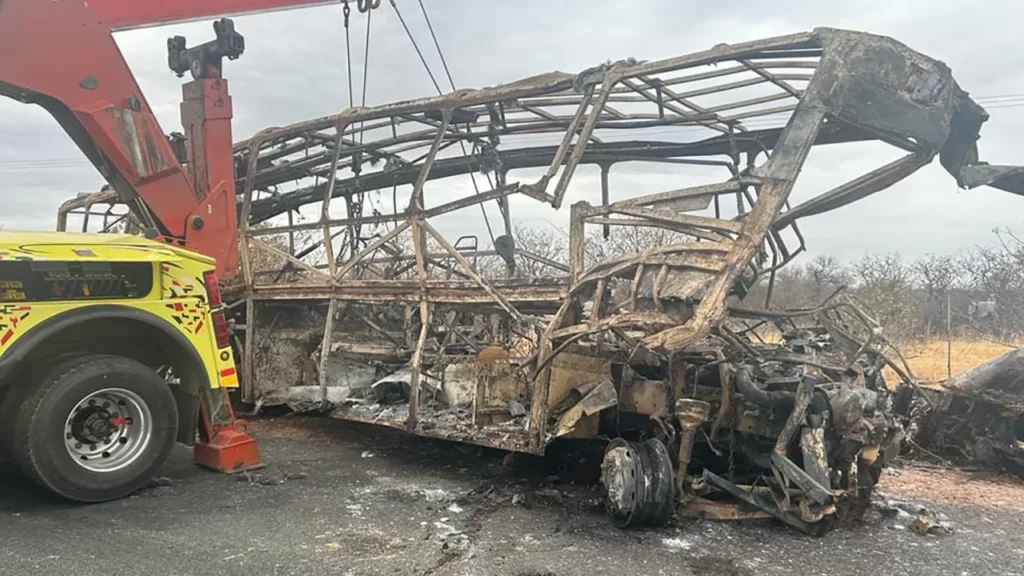 Limpopo Province, South Africa – September 18, 2023: In a harrowing incident that sent shockwaves through South Africa, at least 20 lives were tragically lost in a devastating bus accident on Sunday. The incident occurred in Limpopo province, marking a grim day in the nation's history.
According to reports from state media, the fatal accident unfolded when a bus, primarily carrying mine workers, collided head-on with a truck, resulting in a catastrophic eruption of flames. The bus was engulfed in fire, leaving little chance of survival for those onboard.
The Limpopo Department of Transport and Community Safety confirmed on Monday that 20 individuals were pronounced dead at the scene, while an additional two succumbed to their injuries at the hospital. The exact number of passengers on the ill-fated bus and whether any survived remains uncertain.
The collision took place on a major roadway connecting Musina town and the Venetia mine in northern Limpopo province, a crucial transport route in the region.
Murray and Roberts, the employer of the deceased mine workers, issued a statement expressing their grief. Preliminary reports indicate that 18 of their staff, en route to the Venetia mine, tragically lost their lives in the accident. The Venetia mine, South Africa's largest diamond producer, now mourns the loss of its workers in this devastating incident.
Videos circulating on social media depict a scene of horror and chaos, with bodies scattered on the ground and a thick plume of black smoke billowing from the charred remains of the bus.
The Limpopo transport department has announced its intention to conduct a thorough investigation, vowing to visit the mine for a comprehensive report on the accident. This tragic incident serves as a stark reminder of the dangers faced by commuters on South Africa's roadways.
It's worth noting that this marks the second bus crash with significant casualties in the Limpopo province this year. In February, approximately 20 lives were lost in a similar head-on collision involving a bus and a cash-in-transit van, a sobering reminder of the importance of road safety measures.