Decoding Pope Francis' Evolving Stance on Ukraine's Arms Dilemma.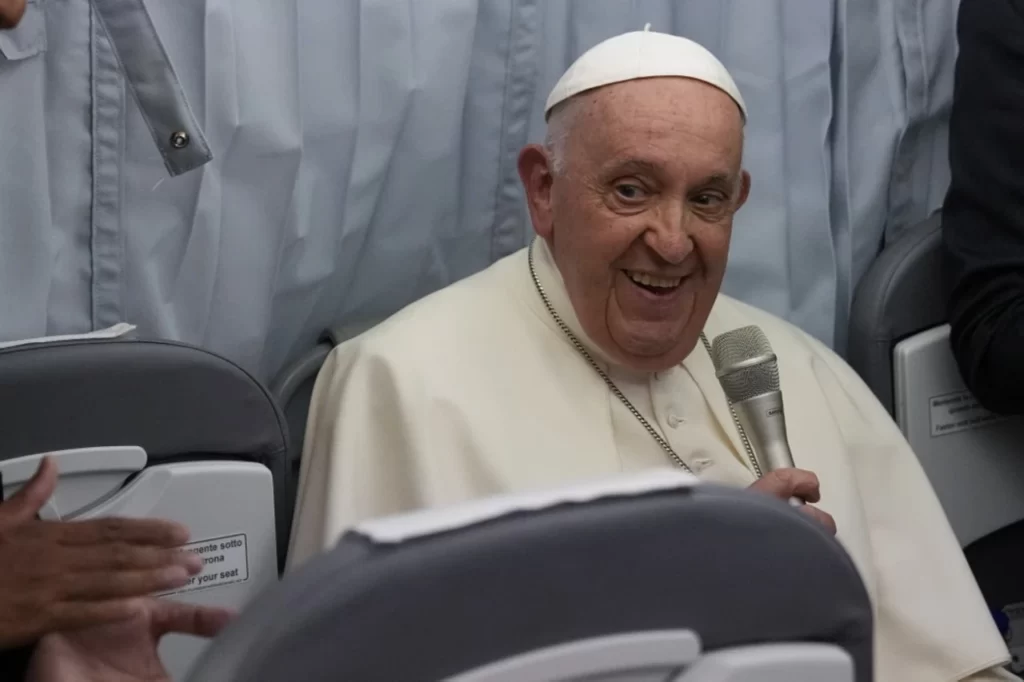 Kyiv, September 25, 2023 – Pope Francis' recent remarks regarding Ukraine's access to arms have generated substantial confusion and debate. On September 23, while aboard a flight from Marseille to Rome, the Pope appeared critical of Poland's decision not to send further arms to Ukraine due to a trade dispute. His comments were seen by some as a rebuke to countries withholding military aid to Ukraine.
"We should not play games with the martyrdom of this people. We have to help them resolve things… I see now that some countries are moving backwards, not wanting to give (Ukraine) arms. A process is starting in which the martyr certainly will be the Ukrainian people and that is an ugly thing," the Pope said, as reported by Reuters.
Also Read: Apology Issued Over Praise for WWII Veteran with Nazi Ties During Zelensky Visit
The Pope's comments came in response to a journalist's question about his efforts to bring about peace. He had previously sent an envoy, Italian Cardinal Matteo Zuppi, to meet with leaders in Kyiv, Moscow, Washington, and Beijing to pursue peace initiatives.
A similar translation of the Pope's words from AP News stated, "I've seen now that some countries are pulling back and aren't giving weapons. This will start a process where the martyrdom is the Ukrainian people, certainly. And this is bad."
Also Read: Repression and Arrests Soar in Russia: UN Report
However, Reuters reported that Vatican spokesman Matteo Bruni later clarified, stating that the Pope was not taking a stance on whether countries should continue or stop sending weapons to Ukraine. Bruni explained that the Pope's comments were a reflection on the consequences of the arms industry, suggesting that those who profit from the arms trade do not bear the full moral burden of their choices.
While the Pope has been critical of the arms industry, his statements seemed to contradict Bruni's later explanation. Additionally, in a previous statement on September 16, Pope Francis had stated that supplying weapons to Ukraine could be morally acceptable for self-defense, provided it was done under conditions of morality.
Also Read: General Reveals Slow but Steady Advance in Southern Ukraine
"This is a political decision which can be moral – morally acceptable – if it is done under conditions of morality," Pope Francis said, implying that supplying weapons to Ukraine for self-defense was morally justifiable.
The situation was further complicated when, in a video message to young Catholic Russians on August 25, the Pope praised Russian culture and history. This drew criticism from Ukraine's Eastern Rite Catholic bishops, who felt the Pope's comments caused pain and disappointment among Ukrainians.
Also Read: Ukraine Strikes Russian Naval HQ in Crimea, 'Senior' Russian Officers Among Casualties
Despite the confusion surrounding Pope Francis' statements, he later clarified that his intention was not to support imperialism but rather to appreciate Russian culture.
With varying interpretations of the Pope's comments – from criticism of countries withholding weapons to a reflection on the arms industry's moral consequences – there remains considerable uncertainty in Kyiv regarding the Pope's stance on military aid to Ukraine.
Also Read: Ukraine Strikes Black Sea Fleet HQ, Moscow on High Alert
On social media, the Pope's comments sparked debate, with some interpreting them as unsupportive of military aid to Ukraine, while others emphasized the need for assistance in the face of armed conflict.